When my kids were in Elementary School, we tried a lot of fundraisers, and most were a lot of work, so I was always ready to use any Passive Fundraisers there were. We used Box Tops for Education, and back when we were doing it, you still had to clip actual Box Tops!
Today, Box Tops for Education has gone digital, making it a lot easier and a more passive way to fundraise for your kids' school. The basic idea is: there are certain products at the grocery store that count towards the "box tops," and when you purchase them, and show proof, the manufacturer will donate a percentage to your school.
Box Tops for Education is, by definition, only for schools, so clubs and teams can't take advantage of it, unfortunately, and the program only supports schools from Kindergarten through Eighth Grade. But if your school is within the range, you can totally get going with Box Tops.
Why Use Box Tops for Education to Fundraise for Schools?
BTFE (as it's known to insiders) has donated more than $900 Million dollars to schools to date, which is even more than Amazon Smile can claim. And all while people simply shop for groceries they were already planning to buy.
Don't you want your school to get some of that money? Of course you do! And they've made the process simpler and easier for your supporters to help raise money for your school, so in our opinion, there's no reason not to get started with Box Tops.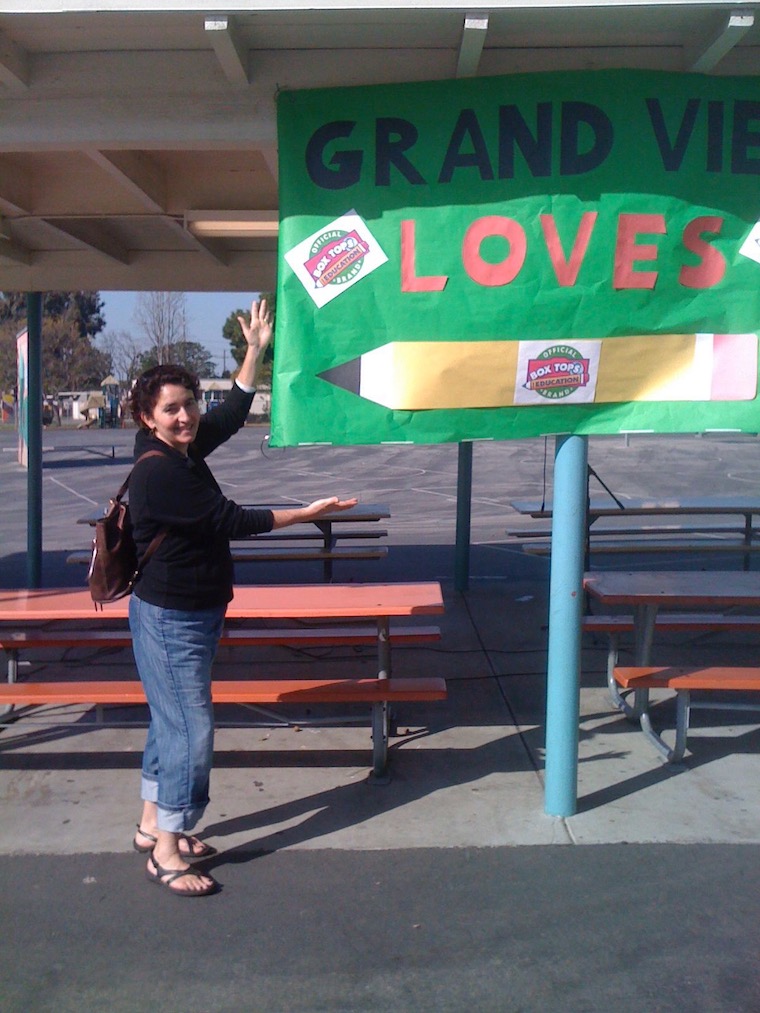 History of Box Tops for Education
Box Tops for Education was launched in 1996 by General Mills, and at first they only appeared on a few select General Mills cereal brands. Over the years, the product line has expanded, and now includes non-food items like pens and even cleaning supplies. For a full list of the products that count towards Box Tops for Education, check out their website.
The way it used to work actually involved quite a bit of work, but mostly for the school's fundraising committee!
Step one was that the supporters would go shopping and buy the products with Box Tops on them. Then they needed to cut off the Box Tops – they were really just a small part of the box itself – a little rectangle of cardboard about 1 inch long and 3/4 of an inch tall, approximately – and then they had to turn them in to the fundraising committee.
Our school had a collection bin set up in the main office and people could drop them off on a daily basis or whenever they remembered to do it. We sent out reminders at collection time, which only happened a couple times per year.
Collecting and collating Box Tops was a bit of a job for the fundraising committee, so you can already tell it wasn't the most passive of passive fundraisers, but still, it was easier than other ways, so we felt it was worth it.
The hundreds or thousands of little pieces of cardboard had to be counted, sorted, and mailed back to General Mills headquarters in Minnesota before the school could get its money. And the postage wasn't covered by General Mills, so it was in our interest to clip the Box Tops as small as possible, getting rid of the edges, because even tiny amounts of extra cardboard would add up when it came time to ship.
There were many, many volunteer hours spent clipping and trimming, then bundling box tops into sets of 50 – 100. Each one was worth 10 cents to the school, so we needed tons of them in order to make a significant donation.
The whole thing was time-consuming, although not difficult to do. Back at General Mills headquarters, it had to be quite a job, too. Imagine the tons – literally tons – of cardboard arriving in the mail, and having to verify they were actually all Box Tops and not just junk, before then calculating the totals and sending out checks. Tons of cardboard, tons of work!
But times have changed and Box Tops are so much easier now!
How Does Box Tops for Education Work?
Thank goodness for digital receipts and apps! Earning money for your school with Box Tops is now a lot easier for everyone involved. For starters, it's not necessary to clip cardboard anymore (although there are still a few legacy products out there with cardboard to be clipped).
Hallelujah!
It's now mostly done with receipts, both paper and digital, and the earnings are added to your school's total within a few weeks; no need to wait for periodic collection times. This is a very good thing!
Step one is still grocery shopping for the specific Box Tops for Education products (see full list here). Next is to scan the receipt, if it's made of paper, and send it to BTFE via their App (which is available for both Apple and Android phones), or there's also a way to email the receipt to them.
One of the best parts about the new digital system is that online shopping counts, too. If your supporters don't actually go to the grocery store but instead have their food delivered, they can still get receipts and, if they've purchased qualifying products, it'll start to add up.
There are specifics about how to use the app, what to do if you use Instacart, and lots of other questions are answered on their website, so check that out.
How to Sign up Your School with Box Tops for Education
You might be lucky enough that your kids' school is already signed up and you're just taking over the job of Fundraising, but if not, you'll head over to their website and start the process. It's fairly simple, but you do have to be sure you follow the rules and that your school qualifies.
Some people ask – Can Private Schools earn money with Box Tops for Education? Or can Home Schoolers sign up with Box Tops? The answer is yes to both, which is great, but of course you'll have to check out the specific rules for each of those types of schools.
Once you're signed up, you'll find a wealth of information and support on the site. Box Tops Coordinators, as you will be known, can benefit from their FAQs and knowledge base, and there are plenty of Facebook groups filled with fundraising teams that can help with questions and ideas.
How Much Money Can my School Earn with Box Tops for Education?
Of course the amount will depend on how much time and energy you and your team can put into spreading the word and educating your supporters, and then just how many products they buy in a year, but there is a limit. Turns out the maximum any school can earn in one year is $20,000. (Note that their fiscal year runs from March 2nd – March 1st.)
I don't know about you, but an extra $20,000 would have made a HUGE difference to my kids' Elementary School! We never made that much, but just knowing it's possible is exciting in my opinion.
The Box Tops Youtube channel has terrific videos showing what some of the schools with the highest earnings are able to spend the money on, like:
Help Fund the Robotics Team
Build a Climbing Wall
Buy More Recess Equipment
Fund Educational Field Trips
Create a Healthy Snack Station
And so many more cool things!
What Products Count for Box Tops?
You should check out the full list on the Box Tops website, because new products are being added to the list all the time, but product categories range from the classic General Mills cereal brands to office supplies, cleaning products, baking supplies, snacks, frozen foods, meals and sides, dairy products, and more. It's a very long list!
The nice thing about that is your supporters are very likely to buy some of those products every time they shop, so you're more likely to earn money for your school. As with any passive fundraiser, the key is to make sure you spread the word and encourage people to take part.
Luckily, there are lots of resources for coordinators, and you should totally take advantage of all the help they can offer.
We hope you get started with Box Tops for Education right away and start earning money for your school. Leave a comment and let us know what your school is fundraising for!
Sarah A. has been fundraising for her kids' schools for years. She's got the info you need and she's ready to share it with you!