Every school and nonprofit that needs money should fundraise every way they can, and restaurant fundraiser nights are a terrific, easy way to bring in some money while also promoting a sense of community.
While they won't be the most profitable fundraiser your group ever does, restaurant fundraisers are among the easiest to execute, so why not add this to your list of ideas? The idea is that a participating restaurant agrees to give your group a percentage of sales that occur on a particular date.
Sometimes the fundraiser last for one evening, and sometimes it's all day. It really depends on the restaurant and their specific policies.
How Do Restaurant Fundraisers Work?
Your group sets up a special night (or sometimes a whole day) with a local restaurant when they've agreed to give back a certain percentage of sales to your school or group. Then it's up to you to make sure people know about it and that they attend and spend.
The idea is that your supporters can purchase their family's meal at that restaurant and at the same time they're earning money for your group. For many school parents, it's a welcome relief to have a night where they don't have to cook dinner, and they can also be supporting the school at the same time.
Sometimes the restaurant requires that people bring in a flyer, which is a way for them to track how many people came in as a result of the fundraiser, and to track how much money was spent by those who ordered food.
After all, they're going to give you a percentage of that total, so it's important to keep track.
Some restaurants simply give a percentage of the totals sales for a certain time period, and don't require a flyer at all. Each place will have different rules, so be sure you check. If a flyer is required, some places want to see a paper flyer, and some will allow a digital one to be presented, like on a phone.
Once the event is over, the restaurant typically sends payment in the form of a check, and there may be a 30-day turnaround before the funds are released. You'll need to check with the restaurant to be sure.
What's in it for the Restaurant?
Why would a restaurant do a fundraiser with your school? The simple answer is: marketing. When you agree to do a fundraiser at a local restaurant, they know you'll be telling lots of people in your school community to buy their meal there, and that means you'll be telling lots of people about them.
That's free marketing for the restaurant! So it's a win-win. You'll earn money for your school and the restaurant will get some free marketing. And if you tell a ton of people, they'll probably make a ton of money that night, too.
How Easy is it to set up a Restaurant Fundraiser?
Restaurant Fundraisers are very easy for the fundraising committee, which is one of the reasons they are so popular. The work is done ahead of time, when you need to contact the restaurant and agree to the date and percentage, and also the rules. Will they require a flyer? Can it be digital? What are the fundraiser hours? When will our group receive payment? Will payment be in the form of a check or an electronic funds transfer? These are some of the questions you should ask.
Once you have all the details in place, the next step is to promote the event to your supporters. This can be a simple step or a more involved one, depending on how big your network is and how responsive your community is to having fundraisers.
Some communities are more receptive to these kind of fundraisers than others. In cities and towns with lots of restaurants close by, it's going to be easier to set up the fundraiser in the first place, and also more likely people will be willing to eat out and spend the money. In smaller towns, with fewer dining options, this may be more challenging. It's always worth a try.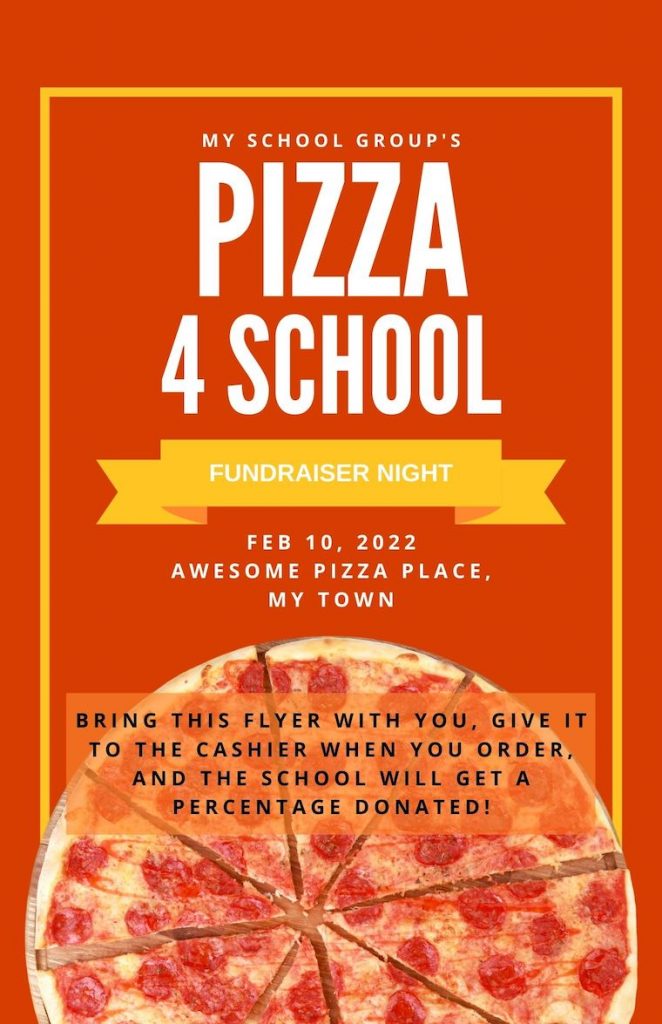 Restaurant Fundraiser Flyer Template – Free Download
Use this flyer as a guide or template for making yours. It's free!
How to Promote your Restaurant Fundraiser?
You may wonder, how can I make my school's restaurant fundraiser successful? The key to making a restaurant fundraiser (or any fundraiser) successful is by promoting it far and wide. Promote the heck out of it!
Don't worry that you're telling people about your fundraiser too much; there's no such thing as too much. One thing we've learned over the years is that people are overloaded with information, especially parents, every day, so it's easy for event sot slip their minds or get lost in the shuffle. You need to break through all that to get your message out. And after all, it's going to benefit their child, so it's worth it.
Tell Everyone About Your Restaurant Fundraiser
The beauty of a restaurant fundraiser is that it's easy to open it up to the community. After all, anyone can eat a restaurant or get take-out! Some fundraisers are really more suited to the insular school or team community; it just wouldn't be right to have outsiders coming onto campus, say, or joining a silent auction gala.
But a restaurant fundraiser night is different; you can invite people from your church, you can tell your neighbors, even people from your workplace may want to know. Use social media to spread the word, and ask all of your supporters to do the same thing. It could easily multiply!
Here's a list of ways to promote your fundraiser:
Share it on your group's social media: Facebook page, Instagram, TikTok – whatever they have
Share it on your own social media accounts
Post it on the school's website homepage in the week leading up to the date
Add it to your school's calendar
Add it to your group's website and calendar
Tell all your neighbors
Post in hyperlocal Facebook groups
Ask local blogs to post about it or share it
Go Big or Stay Home
How can you maximize revenue at your restaurant fundraiser? If the restaurant will allow it, plan to be there and greet your supporters as they come in. Offer little prizes to those who attend and spend, like stickers or pencils for the kids. Maybe even play a game or two to keep families entertained while they dine.
If the restaurant doesn't encourage a lively gathering, you can still offer prizes for those who attend, by handing out raffle tickets and doing a prize drawing the next say at school. Or by posting photos of your supporters on your social media channel, showing what a great time they had – and don't forget to tag the restaurant's social media, too!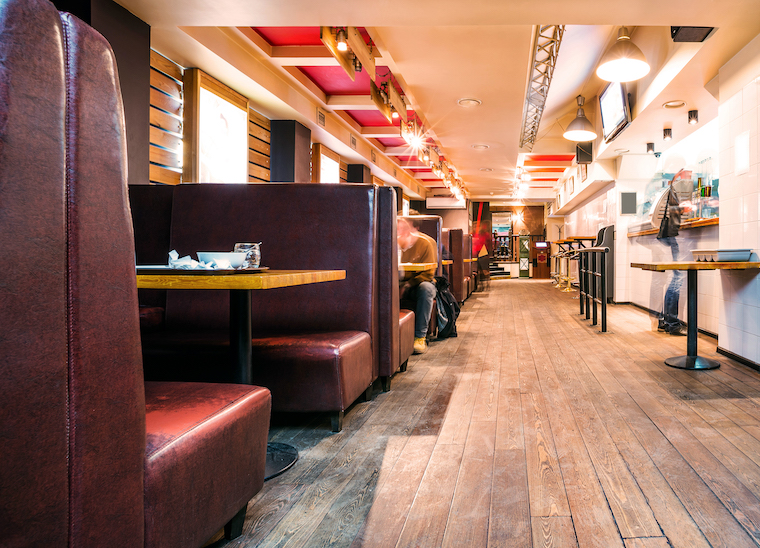 What Restaurants do Fundraisers?
You're in luck – so many restaurants will do fundraisers for your school or group! There are national chains, local chains, and even local mom-and-pops that will help support your school! In fact, local restaurants may be some of your best options because they may have ties to your school, like being part of the Alumni group, or they're parents themselves. And it's always great to be able to help them market at the time.
These restaurant chains are doing fundraisers at the time of publication, although you'll need to check with the local managers to confirm:
Applebee's
Auntie Anne's
Baskin Robbins
Bertucci's
BJ's Restaurant and Brewhouse
Boston Market
Buffalo Wild Wings
California Pizza Kitchen
Chipotle
Cheesecake Factory
Chevy's Fresh Mex
Chuck E. Cheese
Friendly's
Fuddrucker's
Home Run Inn Pizza
Houlihan's
In-n-Out Burger
IHOP
Jamba Juice
Jersey Mike's
Krispy Kreme
Little Caesar's
Marie Calendar's
Mellow Mushroom
Mod Pizza
Moe's Southwest Grill
Noodles and Company
P.F. Chang's
Panda Express
Panera
Red Robin
Robek's
Rubio's
Shakey's
TGIFriday's
UNO Pizzeria and Grill
Which Wich
Yogurtini
And these are just the national chains. You'll find many restaurants in your local area that are sure to help you fundraise.
How to Ask a Restaurant to do a Fundraiser?
For the restaurants on the above list, or other local restaurants that have ever done a fundraiser before, the ask is going to be easy. They will probably even have a form you can fill out.
If you want to do a Chipotle Fundraiser, they make it super easy! There's a spot on their website with the application you must fill out and all the information you need to get started. They even give you the criteria to qualify right there.
If you're asking a restaurant that doesn't have a handy online form for you to use, you'll have to do a little more work, but it's not that hard. Write a quick letter stating your request, telling them a bit about your organization, and leave contact information for how they can get back to you.
Why write a letter? Because if you stop by the restaurant, you may miss the manager/owner and then you'll have something to leave behind for them. If you call, the manager may ask for the letter anyway, so they can have something in writing. Be sure to add your group's non-profit status information to the letter.
Here's an example of what to say:
To the Manager and Owner of ______________ (fill in the blank),

My school would like to do a fundraiser at your restaurant this Fall. We need the funds in order to be able to provide each student with educational Field Trips every year, and any money we earn at a restaurant night will help. Plus our families love to eat here!

We would promote the event on our website, on social media, and tell all the families at our school, and we're sure we'd get a great turnout.

Our school fundraising group is a 501 (c)(3) nonprofit registered with the State, and our tax exempt ID number is ______.

I look forward to hearing from you to discuss the details, like the date and time, the percentage of sales you can offer us, and the timeline for payment afterwards.

Here's my contact information.

Thank you!

Best wishes,

(Name, email, phone number)
School Group website URL

This is just an idea of what you can say, but it has some important basics. Be sure to personalize it for each restaurant you ask.
No matter what restaurant you choose for your fundraiser, we hope you earn lots of money and have lots of fun!
Sarah A. has been fundraising for her kids' schools for years. She's got the info you need and she's ready to share it with you!